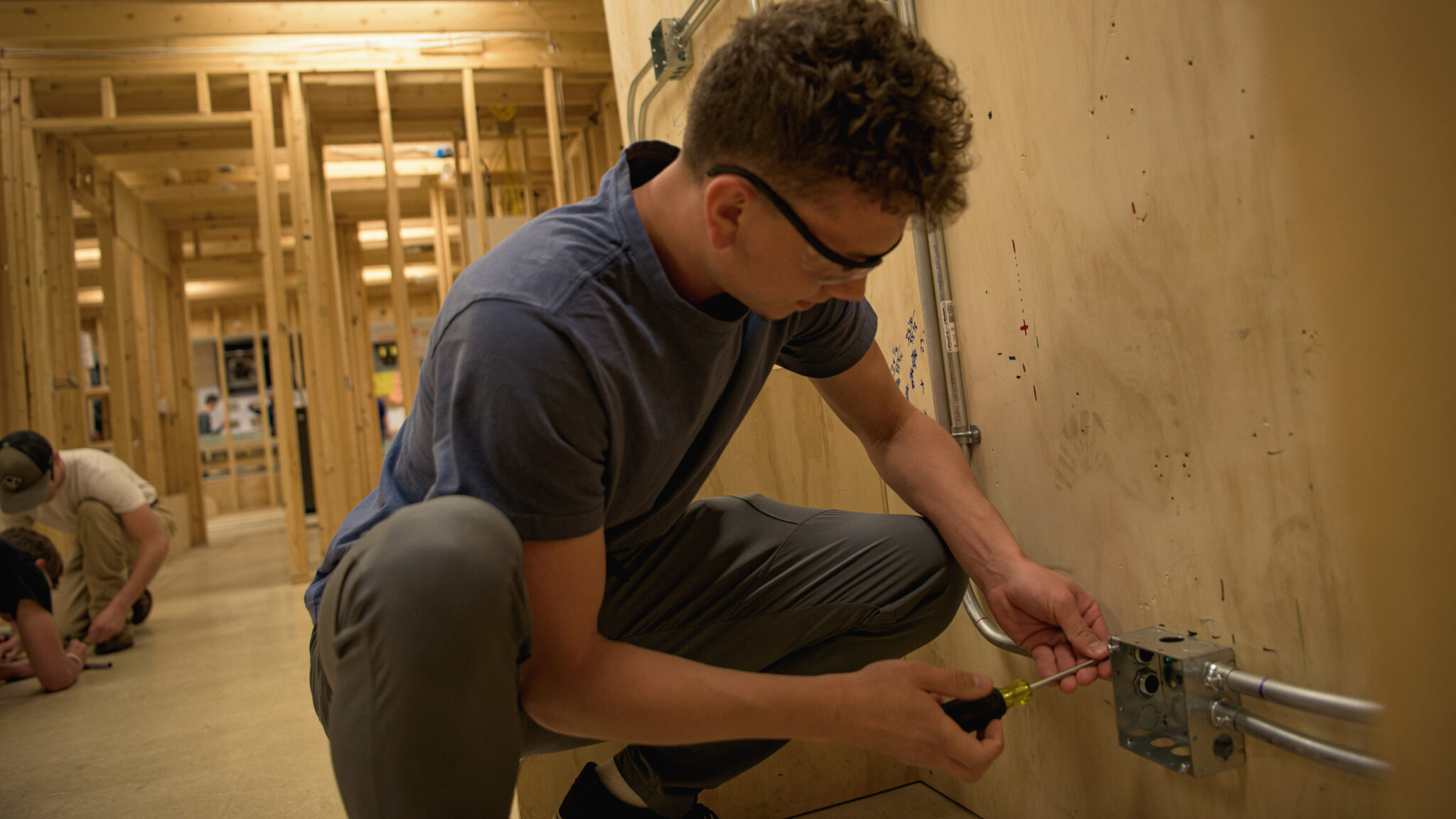 About This Course
Electrical Occupations prepares students for careers in residential or commercial fields. Students will use learned knowledge and skills to install, operate, maintain and repair residential, commercial and industrial systems, controls and electrical distribution panels. In the first year, students will focus on safety, reading and understanding circuit diagrams, blueprints and basic residential electrical work. The second year focuses on learning and understanding commercial and residential constructing wiring codes and specifications, as well as commercial electrical work.
Electrical equipment is increasingly important in our high-tech society. There are numerous opportunities for individuals who would like to enter the electrical field. Electrical equipment technicians install, maintain, and repair the equipment found in factories, business offices, hospitals, schools, stores, and homes. The Electrical Occupations course will provide an opportunity for students to obtain an understanding of the many careers that involve electricity and electrical theory.
There are a variety of opportunities available for individuals who complete this course and even greater potential for those who continue their studies in the electrical field or pursue an advanced degree. Students in this program will also gain hours towards pre-apprenticeship and may choose to continue in an apprenticeship program following graduation.
Course Details
Certificates Earned
verified
NCCER Credentials
verified
OSHA Certification
verified
Pennsylvania Skills Certificate
Course Content
AC Principals & Applications
DC Principals & Applications
National Electrical Code Requirements
Test Meters
Residential Wiring
Commercial Wiring
Industrial Wiring
Motor Controls
TV Cable Installation and Repair
Phone Installation and Repair
Recommended Skills and High School Courses
The next generation of Electrical Occupations graduates:
Have an average ability in reading
Have an average aptitude in numerical ability, abstract reasoning, and mechanical reasoning
Have completed Algebra 1 successfully
Have an interest in scientific development
And physically, should:
Have good manual dexterity
Be able to work in awkward or cramped positions
Be able to distinguish colors
Career Pathways
This list is to help guide students in their career planning. This list is not complete and we challenge students to use their CTE training to find the perfect career goals to match their specific strengths and interests.
Residential Electrician
Commercial Electrician
Industrial Electrician*
Local Hardware Store Employee
Lineworker*
Telecommunication Installer*
Electrical Engineer*
Oil/Gas Electrician*
Elevator Operator/Installer
Safety Auditor*
* Requires post-secondary training and/or education.
Articulation Agreements
PennWest Edinboro
Pittsburgh Technical College
Pre-Apprenticeship – Independent Electrical Contractors of the Builders' Association of Pennsylvania
Pre-Apprenticeship – Arrow Electric, Inc.