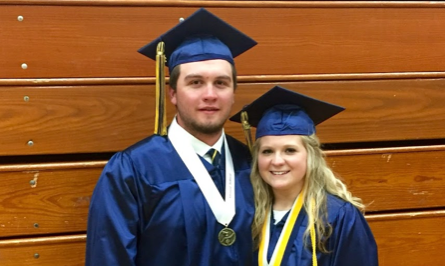 Why did you initially decide to apply for Electrical Occupations?
I wanted to learn a career while going to school. I thought it would be beneficial to my future to learn a hands-on skill and be able to work half days throughout my senior year.
I wanted to learn a career while going to school.
What was your motivation to attend?
My brother is a lineman, and he sparked my interest in electrical occupations.
What experiences do you remember most from your time at Crawford Tech?
Learning hands on electrical skills was the most memorable experience for me. I enjoyed learning how to troubleshoot problems and learn the science behind electrical work.
Can you talk about your instructor and how they had an impact on your career path?
I enjoyed learning from my instructor Mr. Frazier. He always wanted us to do our best which helped motivate me to want to do the same. He always encouraged us and shared his own personal stories and experiences.
What was your education and career path following graduation?
I went to Edinboro University's Porreco College where I earned my Associate of Applied Science in Electric Utilities Technology. It was a two-year program that incorporated classroom learning, hands on skills and climbing school. We also had a summer apprenticeship at a local First Energy company. The entire program was partnered by First Energy. The company paid for the majority of tuition and school fees for each student. After graduation, I was employed through First Energy at Penelec in Oil City, PA. I stayed at that shop until fall of 2021 before changing companies to Northwestern REC in Cambridge Springs, PA to be closer to home.
Tell us a bit about what you are doing in your career?
Currently I am a journeyman lineman for Northwestern REC. We work Monday through Friday 7am to 3:30pm. We are also on a call out list when there are storms or accidents that take out the power. We can also be sent out of town to other states to help with storm damage.

If you could share a piece of advice to students who are considering applying to tech, what would it
be?
I would definitely consider applying because you get to learn a trade while still in school. It can give you a head start in life and help set the foundation for your future.