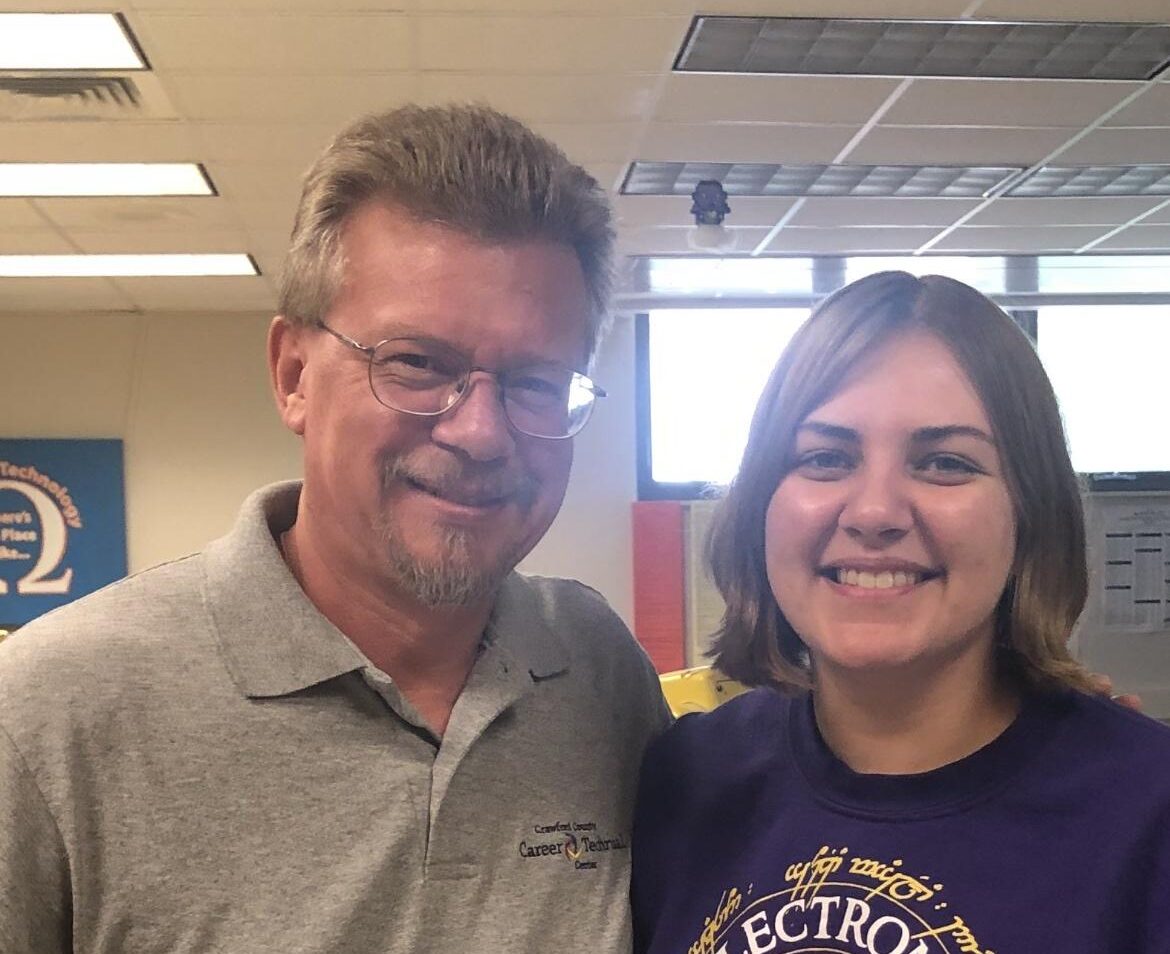 Why did you initially decide to apply for Electronics Technology?
I decided to apply to tech to assist me in a career field I did not actually go into, the Air Force Explosives Ordnance Disposal. I also thought the class seemed really interesting, and Mr. K was supportive of my goals even when I was just there on a tour. I originally was worried about the math, but after my work session, where I practiced some math and used the soldering gun, he assured me if I did attend the class, he would help me improve my math skills.
What was your motivation to attend?
My motivation was to truly better myself and to assist me with my (then) dream job. It also got me out of normal high school and let me do some hands-on work, which is something I always wished my regular school had more of.
What experiences do you remember most from your time at Crawford Tech?
The experience I remember most from my time at tech were the friends I made there, and all the laughs and good times we had! We were a very small class, so we all quickly became best friends. It was a really nice feeling being supported by them and knowing I had others to lean on when I needed them. In a more 'tech focused' perspective, my experiences with SkillsUSA and having to force myself out of my shyness bubble was very memorable. Within the year, I had fully gotten out of my shell and began running tours, competing in Skills competitions, and helping other students across the school. Although those were meaningful during my time at tech, the most meaningful moment that stays with me to this day was when my teacher, Mr. K., pulled me aside and told me I had a bright future ahead of me and that he was glad I entered his class. I was really worried about my future after my original plans fell through, so I chose to pick another job within the Air Force. I never realized I had so much potential until I was flourishing in the new environment. I personally attribute this to tech teachers being focused more on the actual students and their personal growth and skills compared to normal school only focusing on test scores and getting through lessons quickly.
Can you talk about your instructor and how they had an impact on your career path?
My instructor, Rob Kightlinger, was a super energized and caring instructor. He also cared about us personally outside of school. He was like a second dad to me. Additionally, not just for me, he always checks up on prior students to see if we are okay and how we are doing. He has helped some students get connected with new jobs and provides encouragement past graduation. He encouraged me by pushing me out of my comfort zone and letting me explore the realms of leadership and development within the school through SkillsUSA, and really pushed me to enhance my skills by letting me work and help the classes below me. Mr. K inspired me to keep pushing for my future when my original plans failed. He has always supported and encouraged me in my new career field (even though it was not related to electronics originally). He ensured me that no matter what path I took in life, that I would exceed any expectations of me.
What was your education and career path following graduation?
I enlisted into the US Air Force as an All Source Intelligence Analyst (formally known as Operations Intelligence). I did not attend university or college prior to my enlistment. I am currently working on my Bachelors of Art in Intelligence Studies, with a minor in Counterintelligence.
Tell us a bit about what you are doing in your career?
I am five years into my Air Force career as an intelligence analyst, four of which have been at the 17th Intelligence Squadron within the 363rd Intelligence, Surveillance, and Reconnaissance Wing at Langley Air Force Base, Virginia. Next, I will be moving to Creech Air Force Base in Nevada for my second duty location.
If you could share a piece of advice to students who are considering applying to tech, what would it be
Do it! There is SO much to offer at Crawford County Career and Technical Center, and it truly helped build the foundation of who I am and what I do today. Even if you are considering attending without wanting to go into a trade craft afterwards, the experience and hands on education could help you in your day-to-day life. Also, if adults in your life are trying to pressure you away from attending, don't listen to them. Do what YOU think is best for YOUR career and life. So many of my own friends regret not attending tech after people encouraged them not to.
Is there anything else you would like to share?
Trade jobs will likely always be in demand, and some require little to no additional schooling/training after you graduate from tech. Sometimes further education is even paid for by companies. Trades are also in higher demand and pay well. It is worth it to attend tech if you love hands on work, are interested in one of hundreds of potential trade jobs, or just want to try something new!